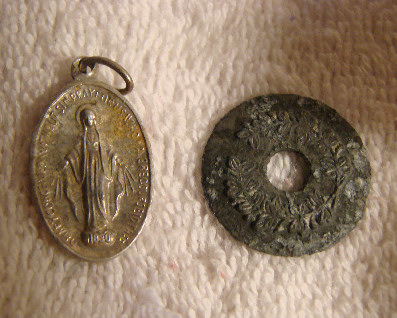 Silver Pendant, I found this in Irish Hills along Whomplers Lake. Silver Mother of Mary.
Unknown Button, found at an abandon fair ground.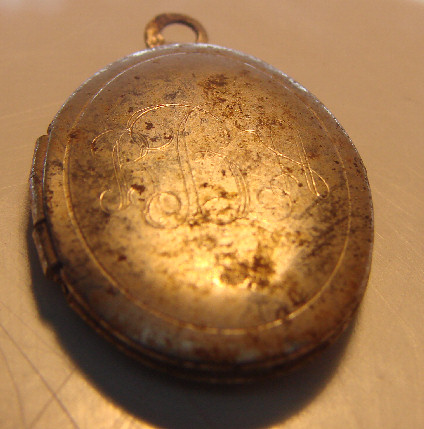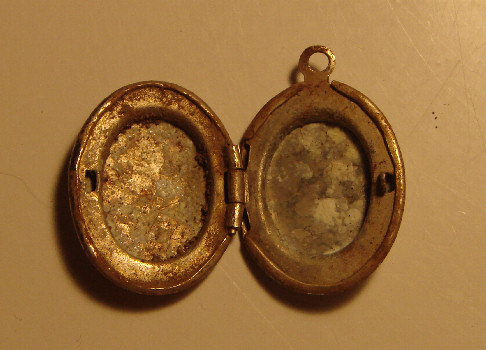 I found this 12" deep next to a tree. This is a silver locket with Initials inscribed into it. Very nice find! I was doing a dance!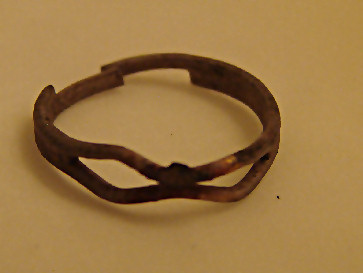 Here we have one of those old bubble gum machine, kids ring.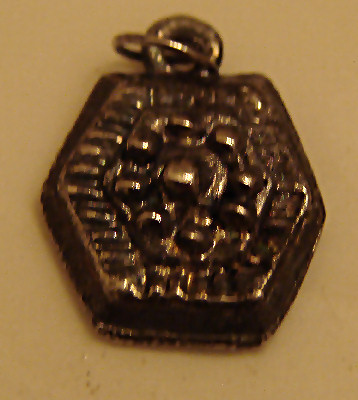 Front and back of pendant. Top & bottom pic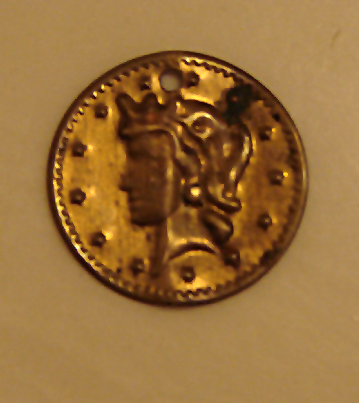 Picked this up in a coinstar.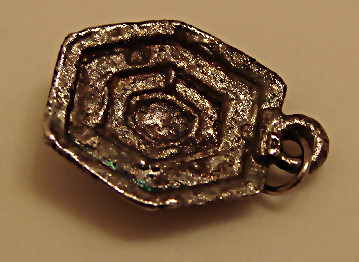 <----------- Not 100% sure what this is, it appears to be some sort of necklace pendant.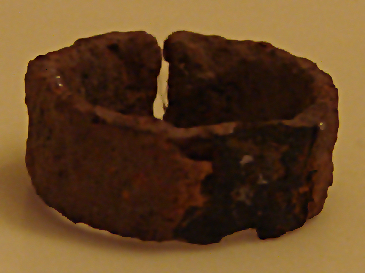 This rusted ring was found at a playground. sure would of liked to seen this the way it use to look.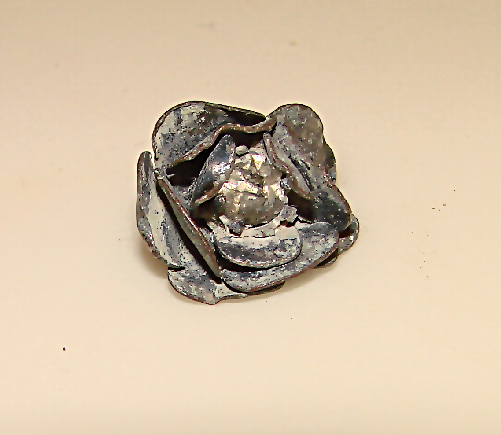 This was a deep find. I thought it was metal junk when I first dug it. This is a rose with a diamond( or simulated) inside. This could of been part of a necklace, ring, or pendant.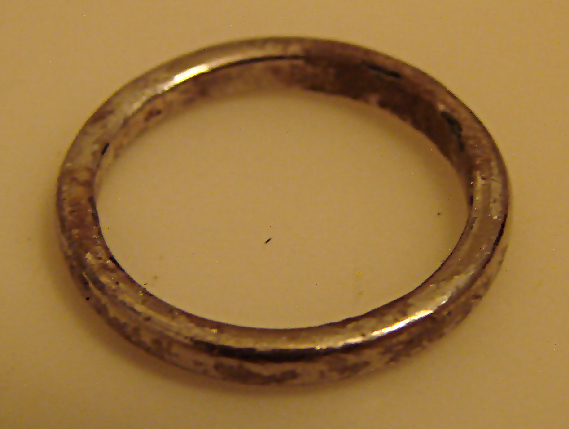 This nice little silver plated ring was dug about 4" deep.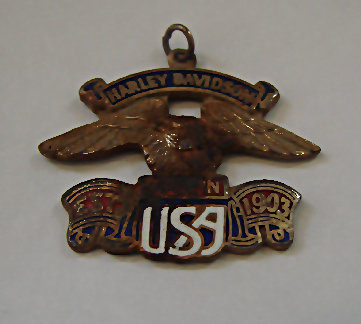 Found at Luna Pier School.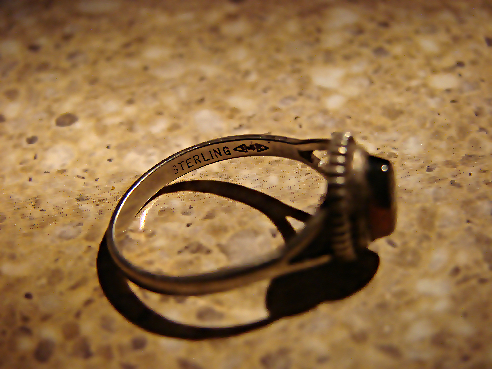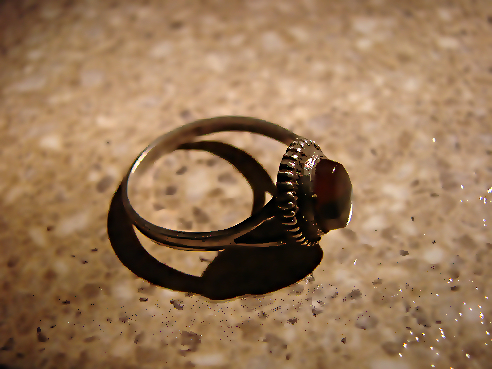 Sterling Silver Tiger Eye Ring. Dug 8" Deep!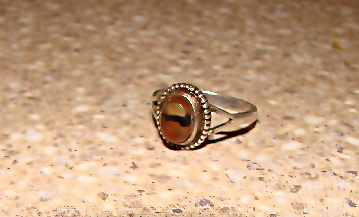 I found this baby with my ACE 250. This was found with in the first 30 min. of owning the ACE!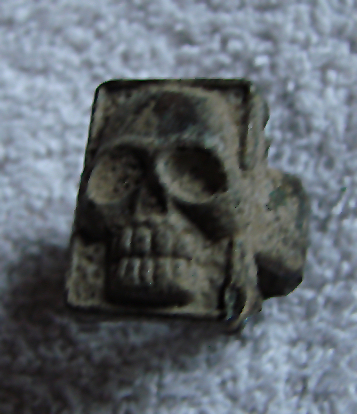 This was found at a tot lot. Pretty neat ring!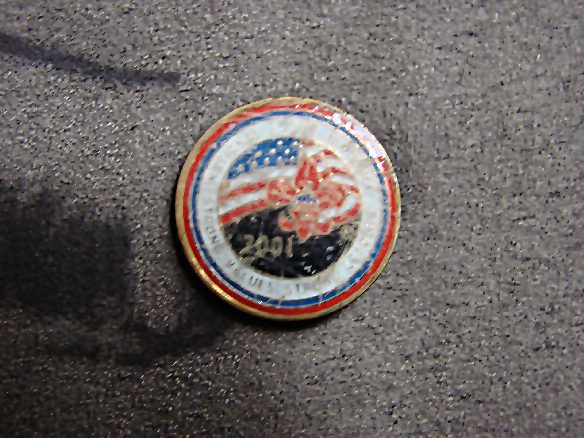 First Boy Scout find! Val was swinging and I was digging!~ Stick pin from 2001.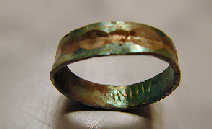 Found this plated ring at a local school about 4"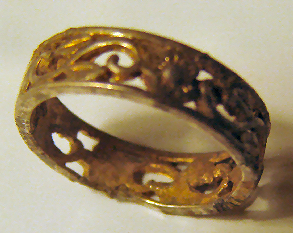 Not sure age or material but, very nice ring.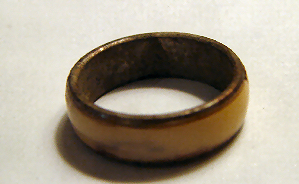 Old Steel pearl color ring.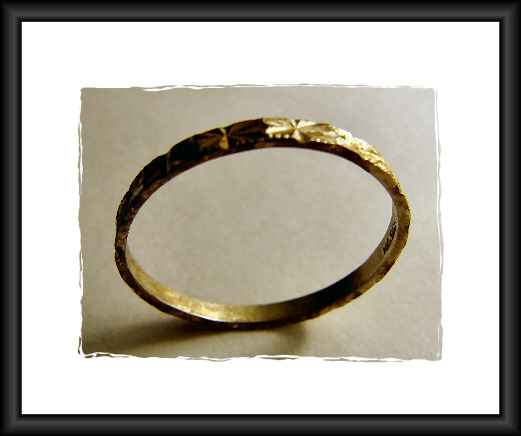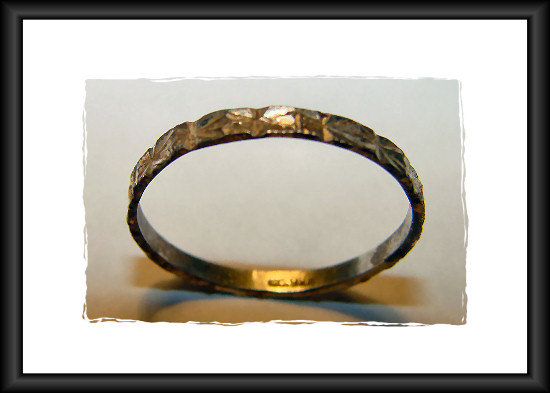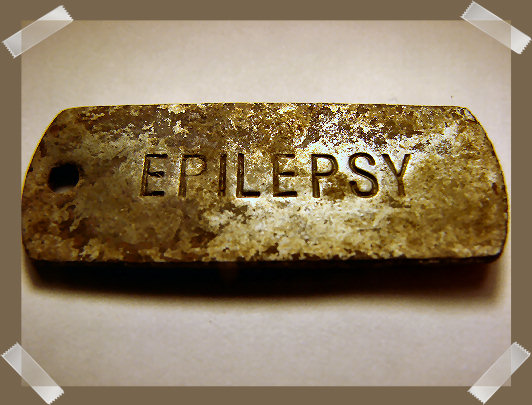 Medical ID Tag. Dug at 5".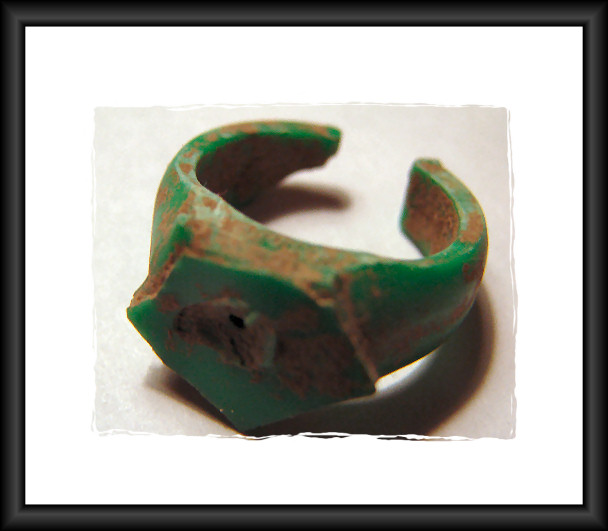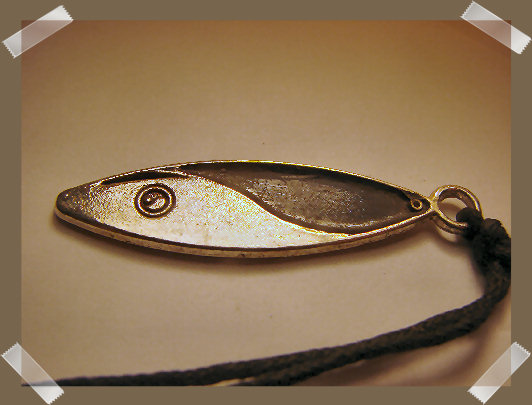 Surfboard necklace. Dug at school.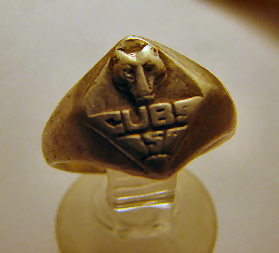 Cub Scout ring Dating 1960's Sterling Sliver.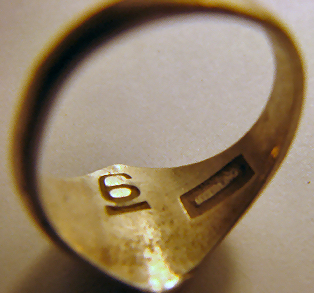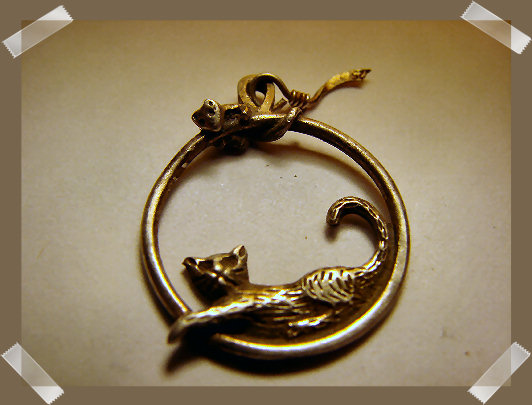 .925 Silver Cat ear ring.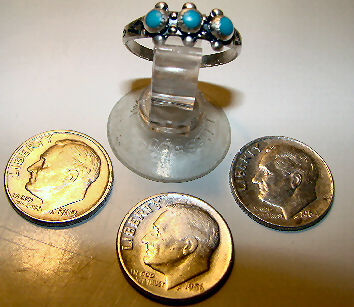 Pulled this beauty from a volley ball court. Sterling Silver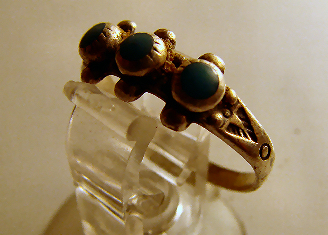 This ring was a beach find. This one was not silver.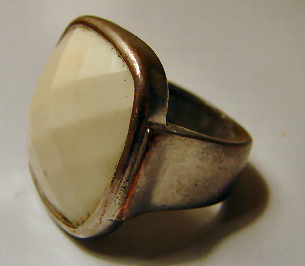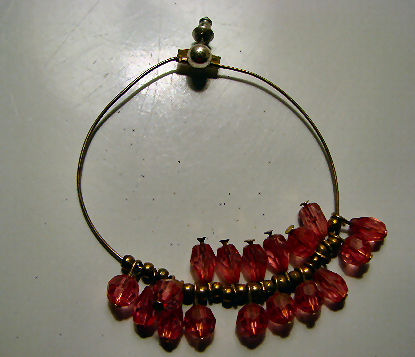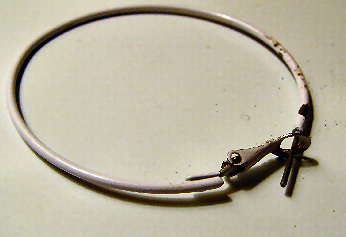 Found both earings after a local fair.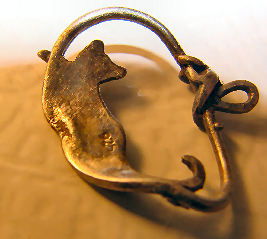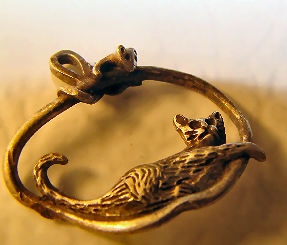 Found the second Sterling silver cat ear ring. Very cool!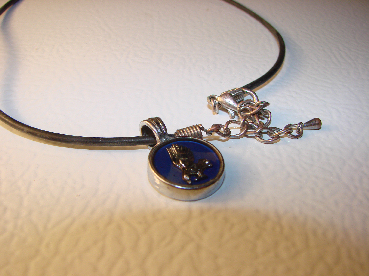 Pulled this Eagle pendant color changing mood necklace off the beach of Lake Michigan in New Buffalo.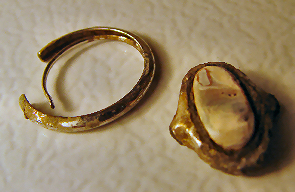 <----------- This one broke ring in my hands. Very sad.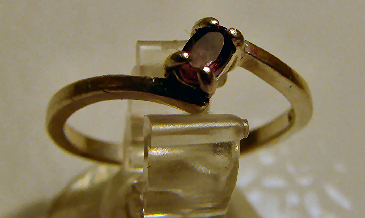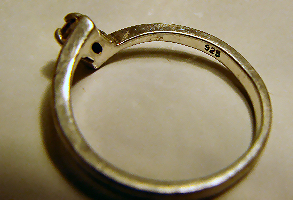 Nice Sterling silver ring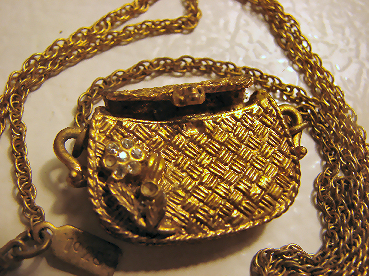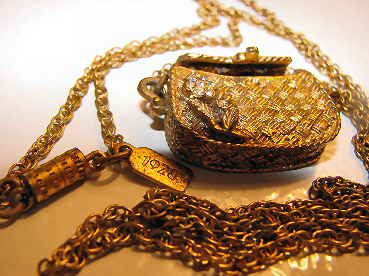 1928 hand bag chain necklace.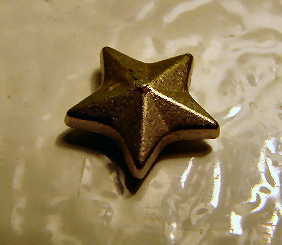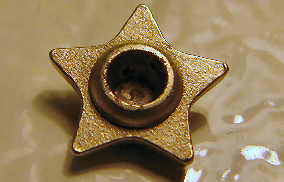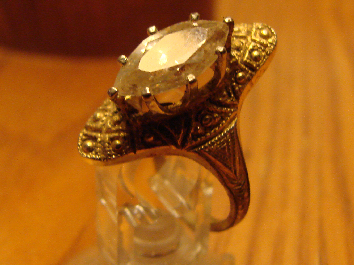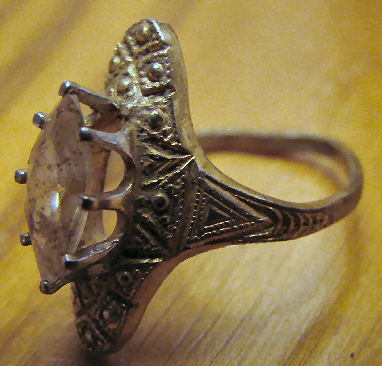 This gold toned ring with a giant rock really got me excited at first. Thought I hit the mother load. lol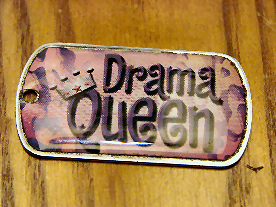 Found both at an elementry school.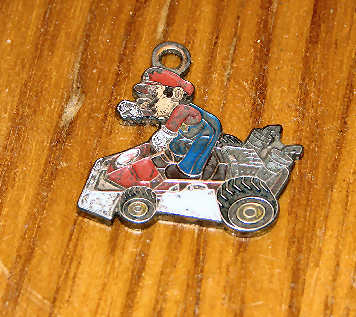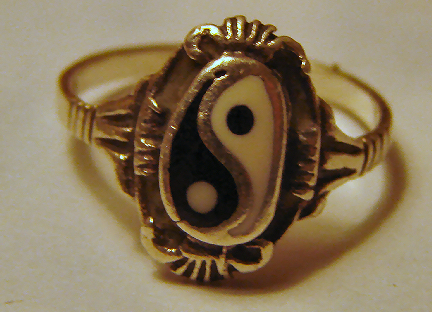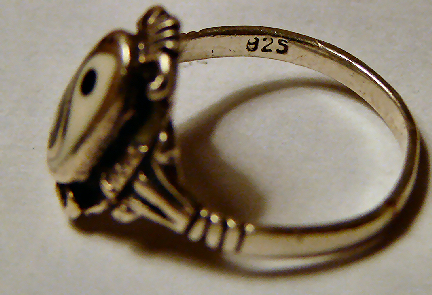 Mikeys First ring! He eyeballed this on the Subway in Washington DC. WTG Mikey!
Belly Button Ring. Cherry.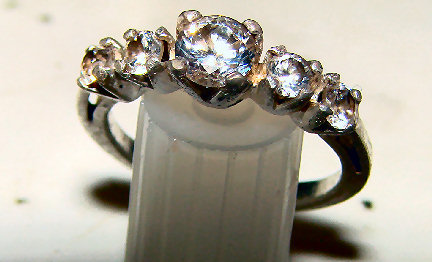 This ring was a nice surprise. This hit and stayed solid dime! .925 Silver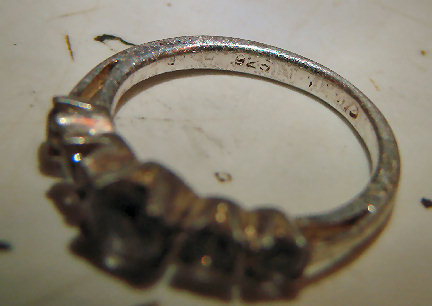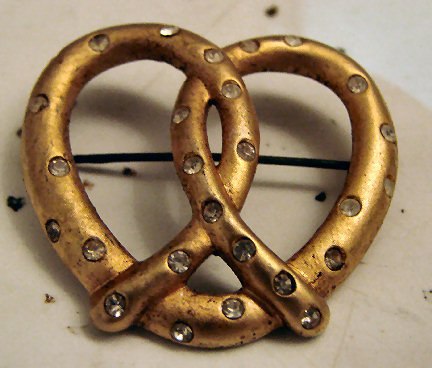 Very cool pretzil pendant. Very unique.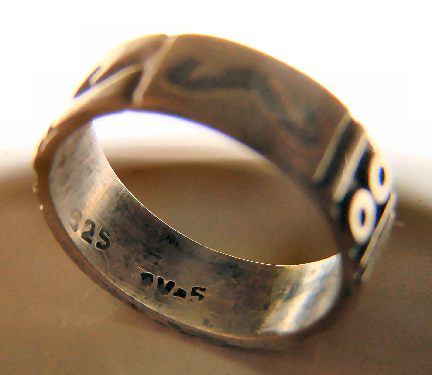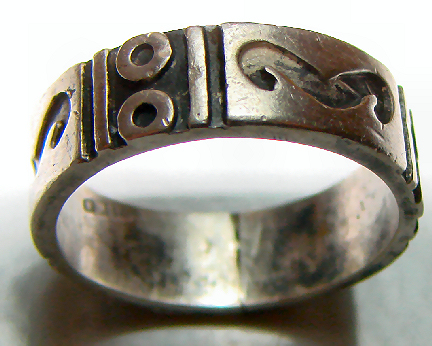 This was a thick and heavy silver 925 ring. Very nice!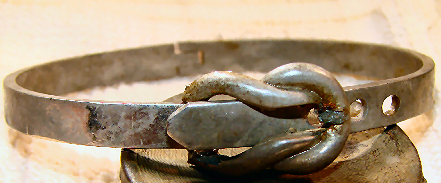 Found this bracelet. Possibly stainless steel
Third day is a Christin Rock bank.